CAMPING AT WHITE STAR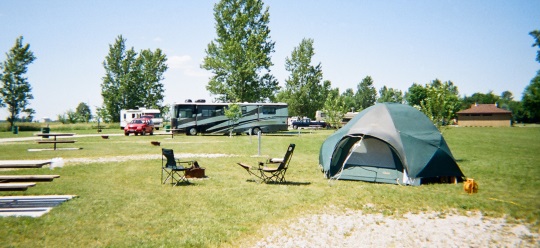 Camping is just across the street from the entrance to White Star Quarry
Across the street from the quarry, the Sandusky County Park District operates a campsite, open April 15 - November 15. The campground has four primitive and four electric sites that allow a "first-come-first-served" self-registration and payment system similar to the diving operation at a kiosk at the park entrance. New in 2016, All the other sites require an online reservation and payment. Follow the link below to check availabilty and to reserve your site.
Campers are allowed up to 8 people per site, with 2 tents OR 1 camper & 1 tent per site. Each site includes a table and a fire ring.
"Primitive" sites are $15 per site per night.
Sites with water hook-up & electric hook-up are $25 per site, per night. There are 21 sites with 30 amp service and those sites are 45' long and 15' wide. Site #26 and site #27 are pull-through sites with 50 amp service and those sites are 88' long and 15' wide. Each site includes a table and a fire ring. Dump station is FREE. There is Firewood available at the campsite for $5 per bundle.
The scuba concession does not operate the campsite. Questions can be directed to the Park District Office in Fremont: 419-334-4495
Click for Campsite Reservations
TELL EVERYONE YOU ARE DIVING AT WHITE STAR QUARRY
If you visit a local restaurant, store, or hotel, be sure you let them know you are diving in the quarry and visiting the park. Much of the revenue for the Sandusky County Parks is made available through the voters living and working in Sandusky County. The local businesses of Sandusky County do not always appreciate the economic impact that Divers who visit White Star Quarry have on the local economy. Your help as "Ambassadors" to the importance diving has on their lively hood makes the money you spend go a long way in the improvements and maintenance that we can do at the park. Diver fees are only a small part of the overall budget of the Sandusky County Parks and the millages passed by voters are what keeps the park going.
NEARBY ACCOMODATIONS
The largest accumulations of hotels in the area for you to stay at are in Fremont to the west and Perrysburg to the East.
There are many hotels that are in the area that are perfectly good hotels and motels that may have not made this list. These recommendations are for hotels that have gone out of their way to cater to the divers of White Star Quarry.
See Google Map
FEATURED MERCHANTS
Kate and Al's Bar and Grill
This little bar in the town center caters to the whole family with a large menue including burgers, pizzas, grinders and other specialties.
Kirwen's Market
A small town grocery store for all your campout and cook out needs.
Pizzanellos Pizza
Delivers late to White Star Quarry Campground